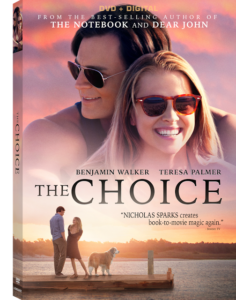 I was disappointed when I did see The Choice when it was in theaters.  All of that disappointment faded away last night when I saw it on DVD.
As of today, May 3, 2016 The Choice is available on BLU-RAY and DVD.
I have to admit prior to seeing the film I did look on other review sites and found that I do not agree with them. I gave it chance and I really liked it!
The Choice has that Nicholas Sparks flare but with a different story line.  You have to think every film he makes is not going to give you the same feeling and I suggest not expecting  all of the films to do so.
One thing for sure the setting of his films are always beautiful and go along beautifully with his well told love stories.  The Choice has the bluest skies and water, greenest grass and the brightest moon.  Which makes the love story even more powerful.
The film begins with Travis, flowers in hand visiting a woman in the hospital.  Before we see the woman the film flashes back seven years and we see a smooth talking and fun loving  bachelor, Travis, who happens to have a new neighbor Gabby.
Their  first introduction entails Gabby getting upset and frustrated with Travis, but it is clear there are some sparks.  Gabby's bark is bigger than her bite and Travis instantly picks up on it and loves it.  Before I knew it the love story began.  As they spent more time with one another and she tried to fight it  he would affectionately tell her, "Stop bothering me."
As the romance blossomed they were faced with a few choices that would threaten their relationship.  These were real life decisions.
While they faced these obstacles I found myself getting upset, laughing, crying and feeling the love.  I was on an emotional roller coaster all the while rooting for them.
I am usually able to figure out what will happen in the end, but with this film I was unable to do so.   This made me like it even more.
There are not many films I will watch more than once, but The Choice is different. I am happy to have it on DVD because this will be a movie I do not mind watching again.
This is great just in time for Mother's Day.
Disclosure: Product/compensation was received in exchange for review.