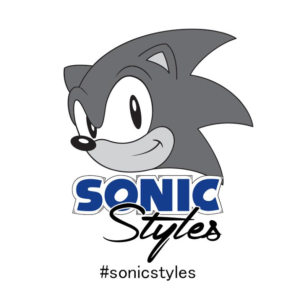 Everyone's favorite hedgehog is springing into action, and it looks like things are trending to blue.  
Starting Wednesday, a newly launched Instagram  kicks off — @SonicStyles, and Sonic the Hedgehog will now bring all things stylish to the popular platform.
The new @SonicStyles Instagram is elevating Sonic into the world of fashion, lifestyle and art. It will provide trend-conscious fans the opportunity to keep up with the latest Sonic inspiration in the space. It will start by introducing the world to a handful of collaborations that showcase Sonic in a new light including:
Sonic Styles:
Han Cholo Silver Sonic Sneaker Pendant

Fashion's Favorite Artist: Donald Robertson x Sonic Collaboration Piece  
Tomy Sonic Boom Action Figures: NYC Times Square Adventure
This is exciting!  When I think of Sonic, I think of coming home from college and hearing my younger brothers talking about SEGA and Sonic.  They were hooked.   I honestly think there weren't too many people who were not hooked.  I have to admit, I didn't mind getting my game time in as well.
When I heard about the launch of Sonic Styles.  All I could think of was how I cannot wait to rock some of the Sonic Styles.  There's nothing like turning heads when you are wearing a piece with an icon or classic on it.  I can already hear it now, "Where did you get that?" or "That's cool."
This year marks the 25th anniversary of Sonic, and this extension is just one example of how SEGA and Sonic have something for everyone planned to celebrate this year.  This initiative is focused on creating a dialogue with the "Blue Blur's"  fans and many leading artists, designers, and influencers  who consider Sonic an iconic character that has impacted them over the years.
Disclosure: Product/compensation was received in exchange for post.