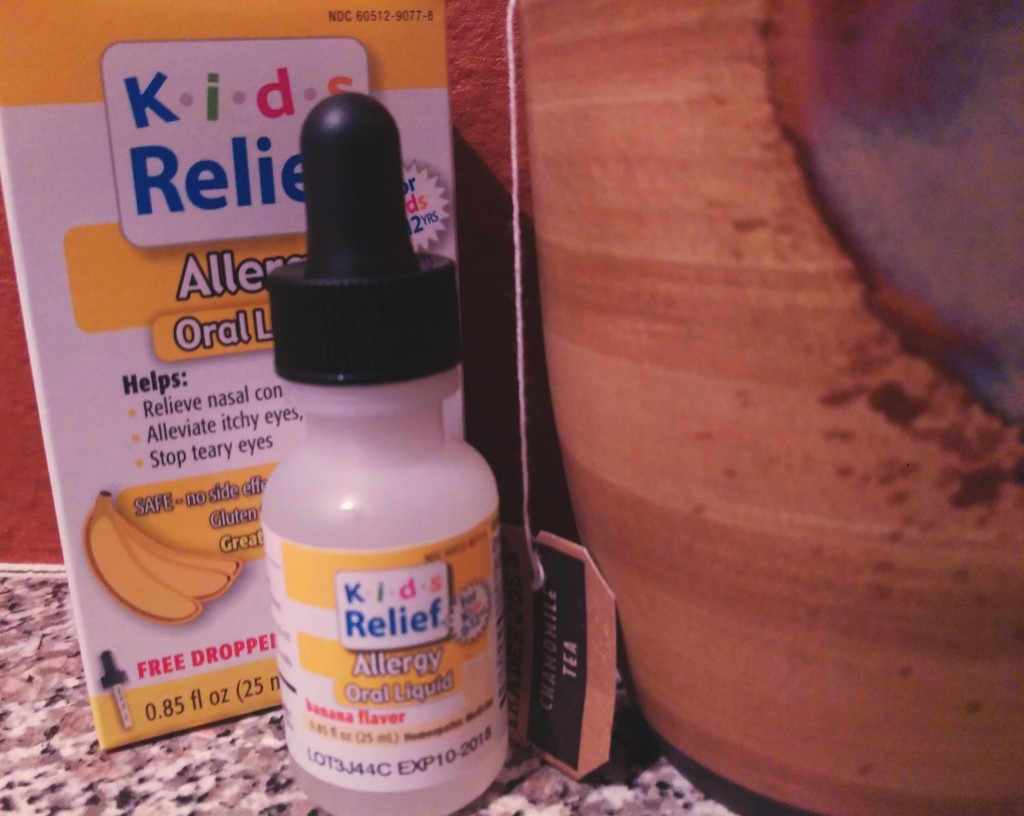 We could not have received Kids Relief Allergy Oral Liquid at a better time.  Literally, within days after receiving our package my son's allergies were flaring up with a force.  He had a strong cough, runny nose, itchy and watery eyes.
We use a lot of homeophathic remedies such as grapefruit seed extract for our allergies, but he does not like the taste.   Kids Relief is banana flavored.  I was hoping that it would taste good and give him some relief.
My son does not usually allow anything to get him down, but his allergies were beating him down.  On the first day I gave him the recommend dose of Kids Relief, tea with lemon and plenty of juice and water.   This did not give him instant relief.  He was so drained.  I had to keep him home from school.  I am telling you this was bad.  I gave him the same dose three times that day and he slept.  He slept because his allergies were just that bad.  This is a non drowsy allergy medicine for kids.  The unique homeopathic formula lacks harsh ingredients other children's medicines may include. The oral liquid offers children relief with no risk of side effects, drug interaction or overdose. By that evening he seemed to feel a little better.  After a good nights sleep he woke up and he was feeling slightly better.  The cough and runny nose were not completely gone, but he felt well enough to go to school the next day.
Although he was feeling some relief I continued to give him the kids allergy medication.  He actually administered the oral liquid himself.   He says at age 10 he should be able to do so.  He did not increase or decrease the dosage.   He was very serious about taking the correct amount.
One week has passed and he is felling good.
The weather has been very unpredictable and allergy season seems to be year around for our family.  I can assure you, the one predictable thing is we will have a bottle of Kids Relief in the medicine cabinet.
Here is a chance for you to win your own Kids Relief Allergy Oral Liquid.  Good Luck!
a Rafflecopter giveaway

Be sure to check out your local CVS location where it can be purchased for $6.99.

Disclosure: Product/compensation was received in exchange for review.