What are you getting that special someone in your life for Valentines Day?  In my case I have a couple of people to get something for.  So far I have gotten my daughter, that is in college a Champagne & Teddy Bear Gift Basket from GourmetGiftBaskets.com.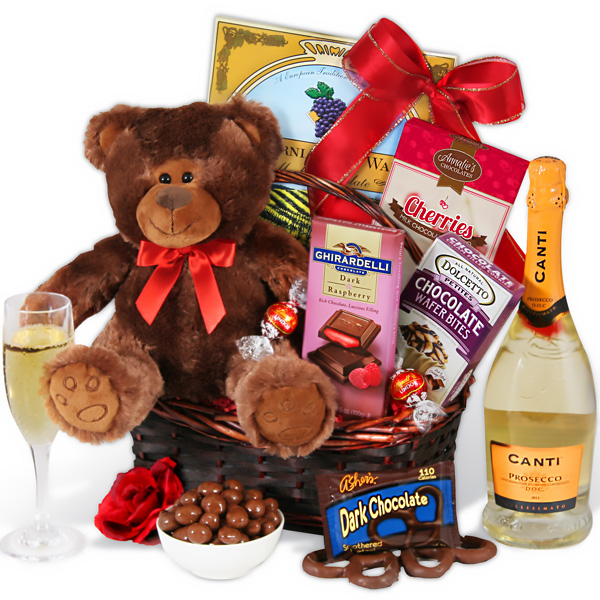 Although, she is 21 and in college I continue to give her gifts on holidays such a Valentine's Day.  She is going to love this basket!  It has everything she likes.  This basket includes:
• Canti Sparkling Wine – 750 ml.- Aromatic and fruity, this classic and gorgeous bottle of sparkling wine is made from Glera grapes. A delicious complement to any meal!
• Teddy Bear – Assorted Colors – This soft and cuddly teddy bear is made from plush fabric and adorned with a silk bow.
• (2) Lindt Truffles – Assorted Flavors – Slow melting smooth chocolate truffles. A sweet chocolate shell with silky smooth centers in a variety of mind-blowing flavors.
• Mocha Wine Wafers by Sacramento Cookie Company – 2 oz. – A crisp chocolate wafer cookie that goes great with your favorite red wine.
• Raspberry filled Dark Chocolate Bar by Ghiradelli – 3.5 oz. – Luscious raspberry filling made from real fruit, wrapped in an intense dark chocolate square.
• Chocolate Covered Cherries by Annalie's Chocolates – 4 oz. – Sweet and juicy cherries wrapped in a creamy milk chocolate shell.
• Chocolate Wafer Petites by Dolcetto – .7 oz. – Delicately rolled and thin wafer cookies stuffed with a with rich milk chocolate center.
• Dark Chocolate Smothered Pretzel by Asher's – .8 oz. – Lightly salted pretzels smothered in deep dark chocolate.
For years she would insist that I get her a Teddy Bear for Valentine's Day.  She had to carry one to school.  This went on until she graduated from High School.  I have not gifted her with one in a couple of years so she will be surprised.  She just turned 21 and enjoys drinking wine.  She has a sweet tooth and I am sure she will love all of the sweet treats.
For the past couple of years GourmetGiftBaskets.com has eliminated the headache of trying to find the perfect gift for her and every year she is happy with what ever I have selected.
After 14 years in business, GourmetGiftBaskets.com knows what just about any foodie on their gift list might want for Valentine's Day.
If your best friend, lover, husband, wife, college kids, teens & younger kids, military friends, babysitter, cousins, or grandparents love food, you will find something at GourmetGiftBaskets.com to help you stand out and show your affection on February 14th.
Happy Valentine's Day!
Disclosure: Product/compensation was received in exchange for a post.