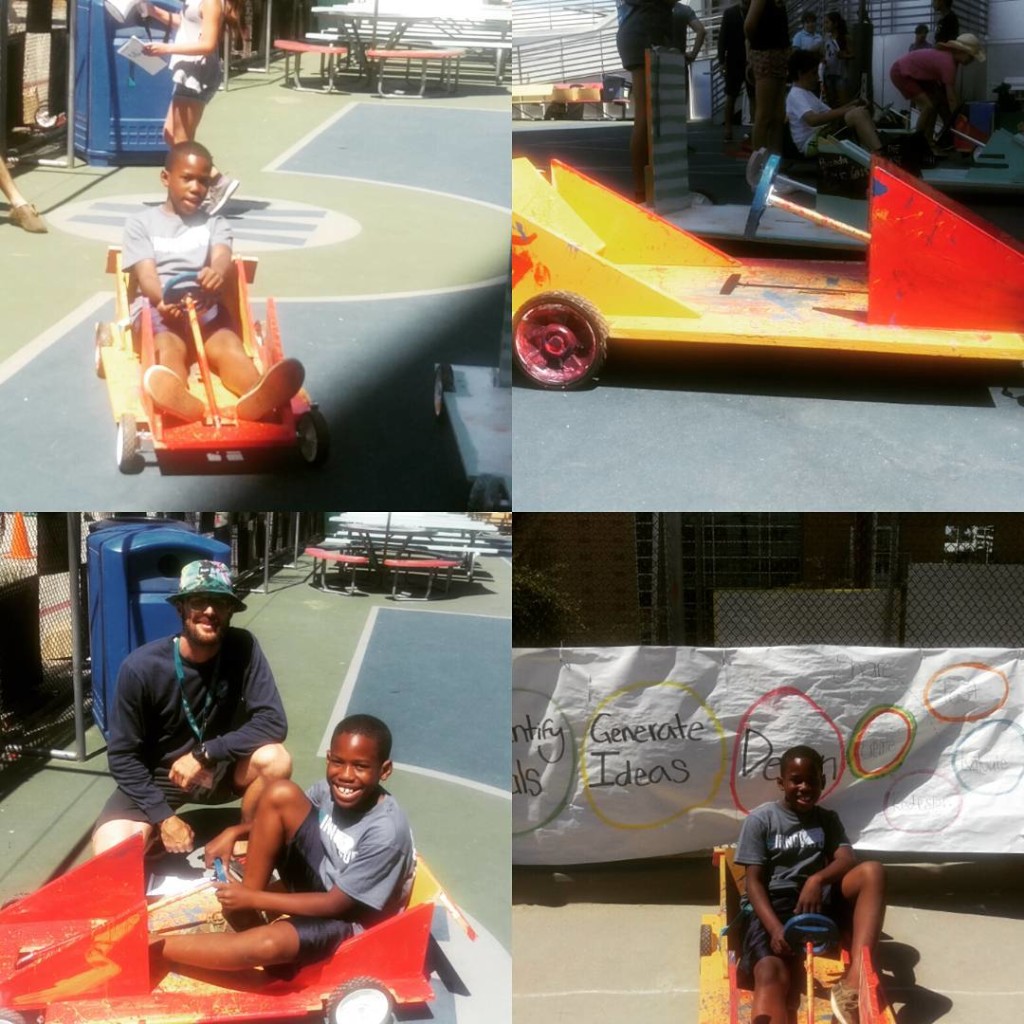 Almost seven months after attending Camp Galileo my son shares his experience with others.   Well it is hard to not speak of, because  he and his friends enjoy riding on the go kart he made at summer camp.
This was his first time attending a summer camp that offered lasting innovative skills.  As we went through the registration process we looked through the majors that were offered.  It was a toss up between cooking and go cart building.   He decided he wanted to build a go-kart.
After we agreed on a major we went through the lunch menu and planned his lunch for the week.  He was excited about the wide selection.  It catered to his needs.  He does not eat beef or pork.  When he saw sushi on the menu he was sold.
On the first day, as we walked into camp he was convinced I had tricked him and was sending him to summer school.  Shortly afterwards he saw the campers and camp counselors having fun during the opening ceremony and quickly realized he was definitely attending a fun summer camp.  He has only attended summer camps that have field trips, play time, etc.  Attending an educational summer was new.  We said our goodbyes and  he seemed fine.
When I picked him picked him and asked my daily question, "How was your day?"  He excitedly said, "Awesome!"  He began to share the process of building his go cart and was thrilled to be using real tools.  He was impressed with his counselor and he had made new friends.
He got a kick out of the dress up days.  He took pictures of himself and his classmates and it seemed like they were having amazing time.  He would tell me how much they worked together and really connected.  He did not want the week to end.
What I liked about Galileo summer camp was everyday when I picked him I was given a report on how he was doing.  It relieved my concerns, because I know my son is not always focused.  The counselor reassured me this was typical for a boy his age and he thought my son was doing fine.
On the last day there was a ceremony for the campers to share what they learned and created.    On this day I was more than impressed by the go carts and the presentation the children gave.  As a parent, I can say proud is an understatement.  My son had really built a go-kart!  This was something my son needed.  He was going into the 5th grade and I was concerned about him being more focused.  I know a lot can happen over a summer but I think this one week at Camp Galileo revealed he could focus.  He left there a little more confident and now thinks he can fix anything in the house.  He then started asking me to buy him more tools.
In my son's words, "Camp Galileo is awesome!  I am happy that he had this experience.
Camp Galileo is currently offering an early bird special.  Sign up now to lock in their biggest savings of the year. Register for camp by Feb 29 and save $25 per week at Camp Galileo and Galileo Summer Quest or $12.50 per class ($25 off a full day) at Summer Camps @ The Tech. Early bird savings apply automatically to your camp purchase and can be combined with our multi-session discount. Guarantee your spot—and your savings—by February 29 and you can change your camp date or location through May 2 for absolutely no fee. Click here and save.
Disclosure: Product/compensation was received in exchange for review.