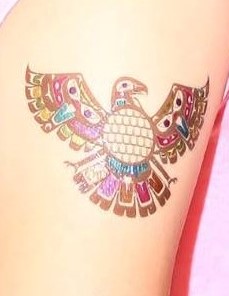 My 10 year old son and his friends have been obsessed with tattoos since they were toddlers.  When we planned his 10th birthday it was only fitting that we have a temporary  tattoo station  with tattoos from Tattoo Sales.
Children lined up throughout the party putting tattoos on their arms, face and legs.  We had every tattoo imaginable.  When the party was over I noticed some of the kids running back in to grab a couple for the road.
There were a couple of children that we could not get the tattoos to stick on their skin.  We tried everything.  When I asked one little boy did he have lotion on his brother laughed and said,  "He never puts lotion on. That is not the problem, it is just his skin."   Not being able to wear them did not stop these kids, they kept trying.  It was fun going through the process.  Mind you there were 20 other kids that did not have this problem.
I am happy that we decided to have a tattoo station. They were a hit!
My son has been wearing tattoos from Tattoo Sales for a couple of years now and loves them.   He received packs of Halloween themed tats.  They have lasted a while.  This past Halloween he pulled a few out of his drawer and shared them with his friends.
My son and his friends are not the only ones that enjoy wearing these tattoos.  I have to admit there are a couple of  foil tattoos that I like to wear as well.  My daughter that is in college has put a couple aside also.
Tattoo Sales offers a variety of tattoos like: foil tattoos, custom tattoos, fashion tats, sports and kids tattoos.   They are always running a special.  Right now they are offering a 14% discount off your entire order on customized temporary tattoos.  The code is: LOVE14
Disclosure: Product/compensation was received in exchange for review.