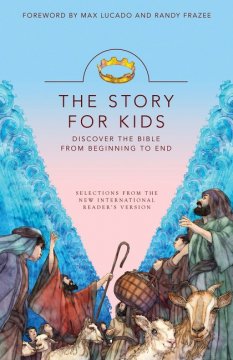 The Story for Kids, NIrV: Discover the Bible from Beginning to End is the perfect book for my 10 year old son to read as he desires to learn more about the Bible.
We have been reading The Story For Kids together and the chronological order of this book as it relates to the Bible is great!  Although we follow the Word this book allows him to read and understand the stories as they relate to the Bible.
This chapter book with minimal pictures is perfect for a children 8-12.
The revised edition of The Story for Kids uses the updated New International Reader's Version (NIrV); part of the church-wide campaign, The Story.
Now God's great love story is told in a format for kids ages 9-12. The Story for Kids parallels the adult and teen edition of the book and can be used as part of The Story campaign or on its own.
The adventure, humor, and drama found in The Story for Kids compel kids to see the Bible as relevant and transformational. It's the perfect resource for parents, grandparents, and teachers to use to introduce their children to the Bible as a complete story—one that tells about God's great love for his people.
My son enjoys reading The Story for Kids.  As we take turns reading I can hear the excitement in his voice.  I look forward to our evening reading time because I am able to witness the joy and excitement this book brings him.

Disclosure: Product/compensation was received in exchange for review.