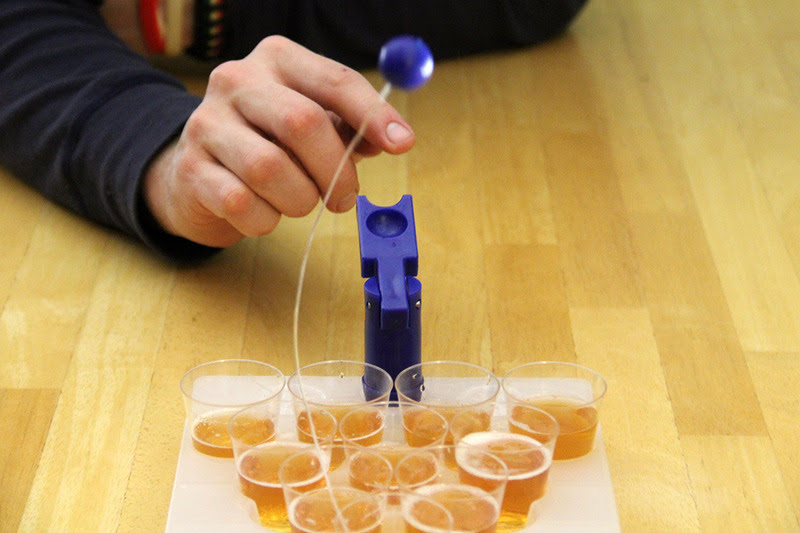 I do not drink often but, I recall being in my college dorm and my friends suggesting we play beer pong.   Of course, I did not know what they were talking about, but I surely quickly learned.  Back then we did not have a Scienz, Mini Beer Pong .  We had big  cups and a lightweight ball, more than likely it was a ping pong ball.
Now, let's fast forward about 25 years later and my daughter is in college and I know she and her friends will enjoy playing Mini Beer Pong.  They have proven to be responsible, so I know this will be a great holiday gift.
Mini Beer Pong is an action-packed, convenient new tabletop version of the classic social game that can go on road trips, to favorite bars or house parties or even grandma's for the holidays!
Life-size beer pong tables take up a lot of space and missed shots send stray ping pong balls flying onto dirty floors — no one wants dirt in their beer. With Mini Beer Pong, players use catapults to shoot tethered balls into mini cups from the comfort of their own seats. No more hassle, chasing or spilling!
The Mini Beer Pong's light-weight, compact size and portable features makes it perfect for playing anytime, anywhere. The two-foot game board folds up into half the size with the one-ounce pieces stored neatly inside. The mini-size game easily slips it inside a backpack bringing fun to any social gathering.
The brand new, travel and budget-friendly version of this super fun game is only $39.99.
Mini Beer Pong is offering a 25% discount.   Head over to the site and use coupon code:  MADEINUSA
Disclosure: Product/compensation was received in exchange for post.