The Grand Opening of Joey Woodland Hills was fabulous!   Giving guests an idea of what the ultimate dining experience would be like they shared a few of their signature dishes and drinks as we mingled, listened to music and ate until our hearts were content.
My son was my date for the evening and what a wonderful date he was.
The energy in the restaurant was electrifying.  So much so, that within minutes of being there my son said, "I love this place!"  I thought, slow down…it is close to your bed time.
There were food stations set up throughout the restaurant.  We made our way to the sushi station.  As we approached what seemed like a massive line, I thought this is going to take forever.  I was starving!  As we waited in line one of the chefs came down the line with Sushi Cones.  We were in heaven.   The combination of a tempura prawn, avocado, spicy mayo, tobiko was was worth the wait.  And it was not a long wait.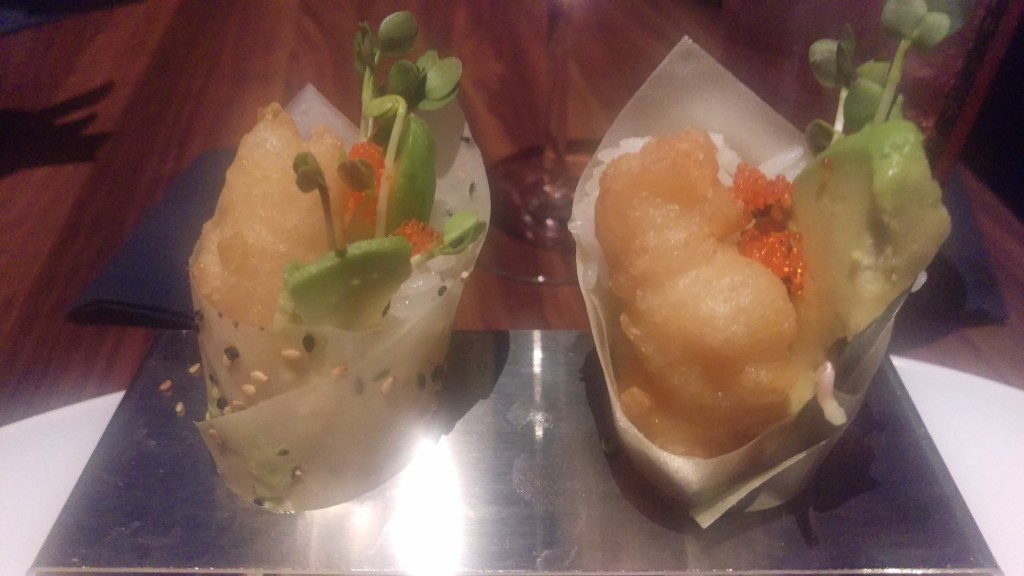 By the time we made it to the front of the line we had eaten one cone each, drank a Joey version of the Shirley Temple and sampled a Superfood 500 Salad.  This salad was amazing.  It consisted of organic red quinoa, wheat berries, raw vegetables, watermelon radish, almonds & avocado.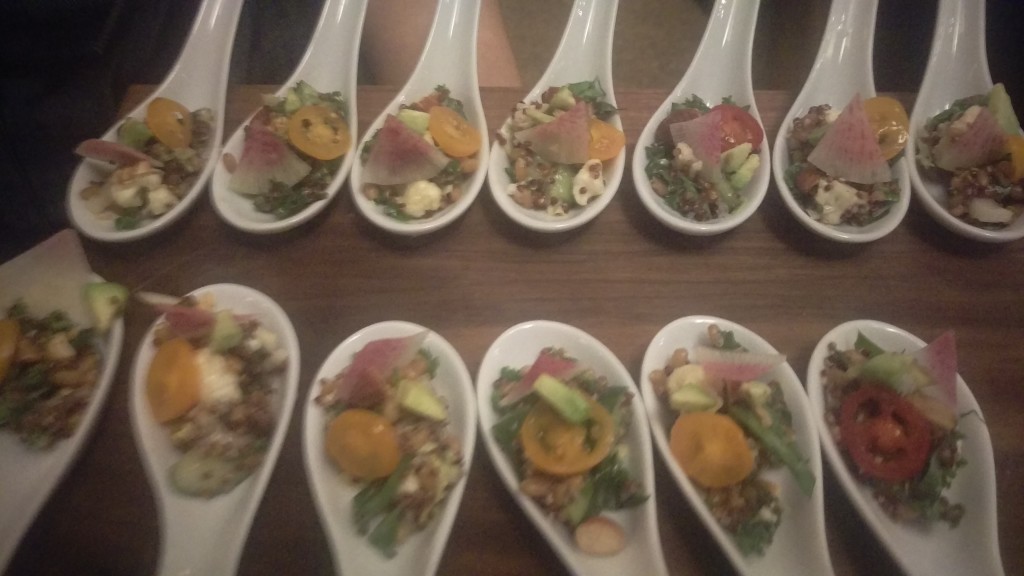 We decided we were going to find a seat, but some how we ended up on the back patio where fresh pressed sodas (Fresh fruit and juice, sparkling water) and more sushi was being prepared.   Of course we had to have more sushi to go along with our soda.  We could not resist it.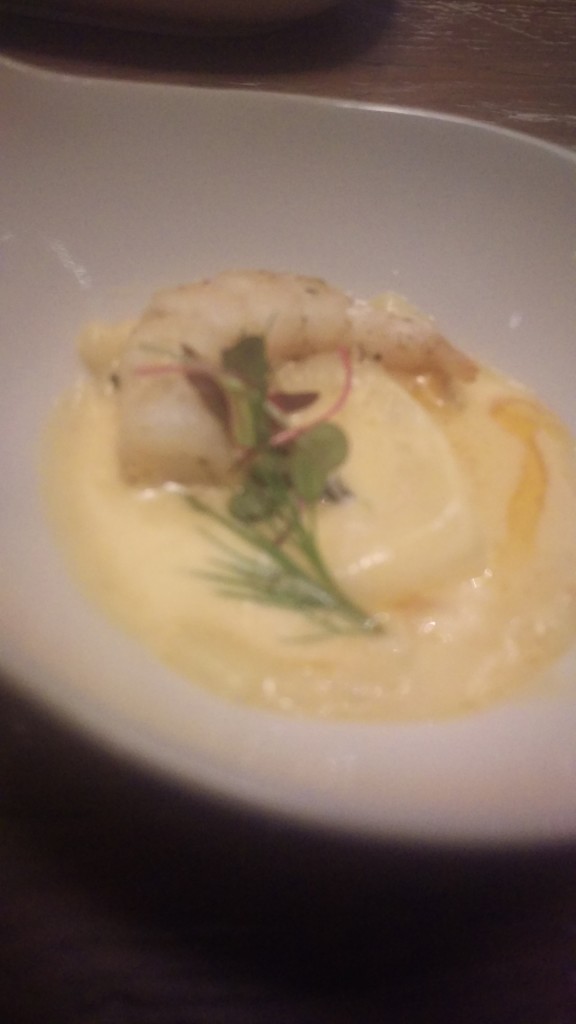 We did sit down outside  and I sampled the Lobster and Prawn Ravioli.  Like everything else, it was delicious.  I tried to convince my son to try it, but he was eager to get a bowl of Traditional Open – Flame Paella.  It was topped with mussles and he could not wait to get his hands on one.   I did not eat any, because I do not eat beef or pork and it is prepared with lobster saffron rice, shrimp, chorizo, chicken, rice.   I do not allow him to eat beef or pork either, but tonight was an exception. He says it was good I am trusting his taste buds.  As he sat eating his Paella, the chef came to our table and asked if he liked it.  He remembered seeing my son in the line and he was curious to hear his thoughts.   My son could not have been more delighted.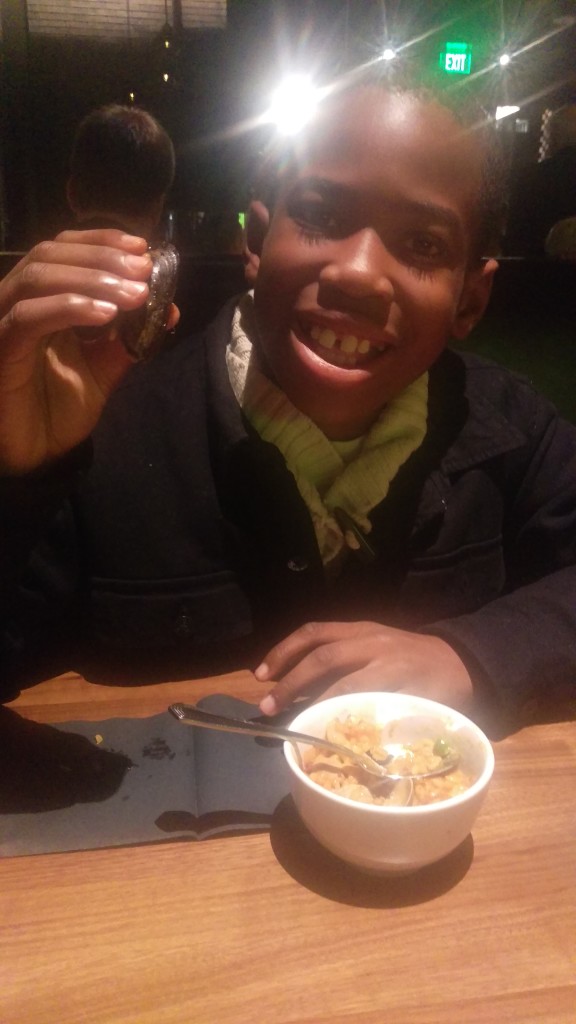 It seemed like the entire staff approached our table and my son was even more impressed when they called us by name.  They kept him informed of when different foods were coming out or they brought food to our table.  We had wings.  I think they were Hibachi Chicken Wings.  We saw sliders.  One of the wait staff told us when the dessert station was ready and in a flash my son dragged me to the line where made to order ice cream was being prepared.  Everyone in line was intrigued by the preparation of  chocolate, vanilla and strawberry ice cream.  There was a wide  variety of toppings and it seemed like my son was going to try them all.  I told myself I was not going to partake in the dessert, but when we made our way back to our table a tray of what looked round ice cream sandwiches were placed in front of my face.  I could not resist.  I had to try one and am glad I did.    I think I lost my mind, because I totally forgot to take a picture of it.  Trust me the presentation and the taste was good.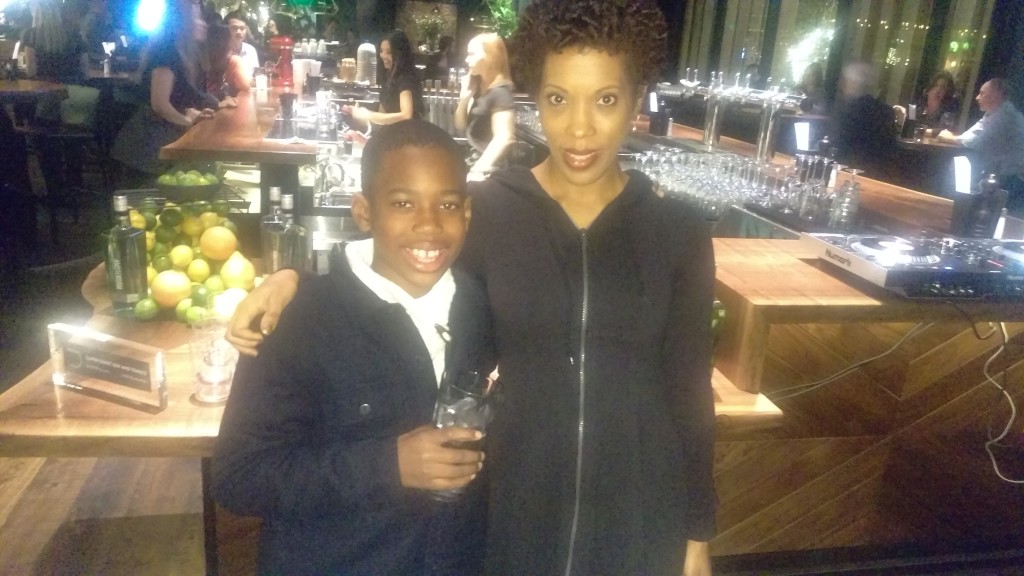 We had a wonderful time at the grand opening and are going to make a point to dine at Joey soon and have a regular sit down meal.
Disclosure: Product/compensation was received in exchange for review.