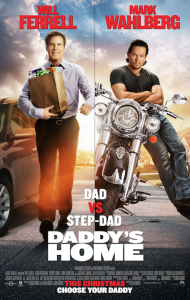 Yesterday as we sat in the movie theater waiting to see the movie PAN the trailer for "Daddy's Home" appeared.   I instantly thought, my family has to see this.  My daughter sat next to me and she said, "We have to see this on Christmas."
Daddy's Home will be in theaters on December 25th.  We have only been to see a movie on Christmas once before and that was over 10 years ago.  This is one of those movies that will send our family to the movie on Christmas Day.  The trailer had us wanting more.  We were laughing so loud in the theater.  I cannot wait to see this.  Just think who does not love Mark Wahlberg and Will Ferrell?  This is going to be a hit, I am telling you.
"DADDY'S HOME" follows a mild-mannered radio executive (Ferrell) who strives to become the best stepdad to his wife's two children, but complications ensue when their freewheeling and freeloading real father (Wahlberg) arrives, forcing him to compete for the affection of the kids.

Disclosure: Product/compensation was received in exchange for post.
Don't be afraid to be free!!!