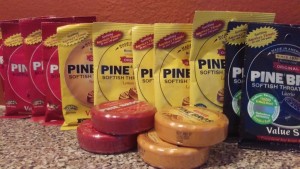 Yesterday, as a browsed through my medicine cabinet I asked my son if he liked Pine Brothers Lemon Citrus or Licorice flavor.  I know he loves the Wild Cherry flavor.  This was his response.  "No, I do not like those flavors but they make me feel better when I am sick, so I do not care what they taste like."
Over a year ago our family vacationed in Big Bear.   We all got sick with severe soar throats and my daughter was having several asthma episodes.  All we had with us was water and Pine Brothers.  You will not believe it, but this got us through the weekend.  We were not feeling 100 % good, but it did it's job.
Pine Brothers is found in the cough drop isle, but they are not a cough drop.  They have no medicines or questionable ingredients in their product.  Pine Brothers throat drops are all natural; glycerin is the active ingredient.  They have been soothing throats for 140 years.  People who would find Pine Brothers irreplaceable are people who suffer from colds and allergies, singers, actors, speakers, SCUBA divers, chemotherapy patients, and musicians.   –People who snore..  anyone that needs relief from a dry, itchy throat and mouth.   A lot of our customers like to eat them like candy whether they have a dry throat or not.  
Pine Brothers Softish Throat Drops have a unique soft texture unlike other throat drops on the market.   They are all natural, vegan and gluten-free. 
Flu season is approaching and I am sure many of us will need something to soothe our throats.  I am telling you Pine Brothers is the best!  I like Pine Brothers so much I am giving you the opportunity to win a Pine Brothers sample kit.  
Disclosure:Product/compensation was received in exchange for post.
Don't be afraid to be free!!!