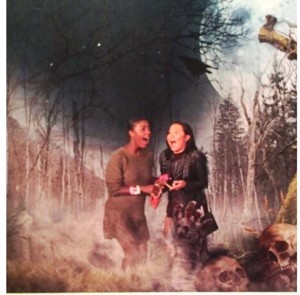 I don't get scared easily, but let's just say I was introduced to a whole different level of scary at the
The Queen Mary's Dark Harbor
.  I have been to nearly every major Halloween attraction every year, with the hopes of being terrified. But, every year I leave with the same disappointment. Granted, there are moments at each attraction where I do get frightened, but nothing that had me questioning why I came and stayed. Well, for the first time my hopes were finally fulfilled. The entire time at Dark Harbor, I questioned my sanity for staying. As my friend and I  walked around outside the mazes, there were monsters following us around.  Most of the time we did not realize they were there until that split second when they made themselves noticeable with a scream, laugh (which is highly creepy) or just a sly comment. The element of surprise kept us on alert at all times.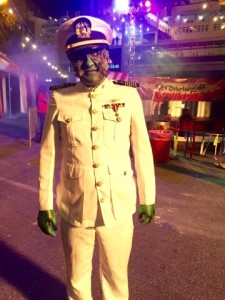 Because of all this going on outside of the mazes, once we finally got to the maze we are already terrified from what we endured on the outside. There were several times I contemplated turning back around, and walking right out. But, my friend was not about to let that happen. Although, I did get through all the mazes,  I opted to take a little breather just to talk myself into completing the maze.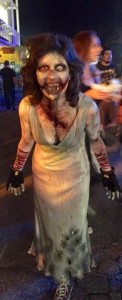 Like most Halloween attractions, the monsters were unable to touch us. But, that made the least bit of difference because they definitely pushed their limitations as far as it could go. Sometimes as I walking, I would begin to feel a breath down my neck. There were also times where I would be in mid-conversation and all the sudden a monster was sliding on his knees right in front of me.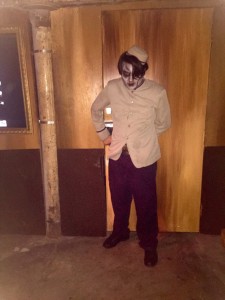 It's safe to say my days of yearning to be scared are beyond over. I have now fallen completely on the other side of the spectrum. I am now satisfied with the "moments' of terror, rather than the continuous wondering if I have just had a heart attack or minor stroke. The Queen Mary Dark Harbor definitely doesn't play when it comes to a different level of fear, because they take it to the top.
 Guest post by @ari_gilana 

Disclosure:Product/compensation was received for review.
Don't be afraid to be free!!!