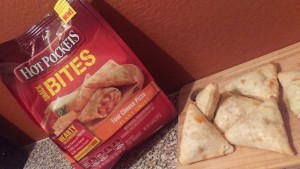 I maintain a busy schedule  year around, but  as October/Halloween approaches this is when I am working over time and I need something quick to fuel my family.
Candy doesn't have to be the only treat in store for your family this Halloween! Fuel the fun and start the night right, by feeding kids a quick, high protein meal they love, like Hot Pockets Snack Bites, before they head out trick-or-treating.
Snack Bites provide a deliciously hearty snack in just over one minute. They come in four irresistibly hot flavors: Pepperoni Pizza, Four Cheese Pizza, Hickory Ham & Cheddar and Cheesy Beef Nacho – so there is a flavor for everyone in the family! They are made with 100% real cheese, are a good source of protein with 7 grams per serving and do not contain any artificial flavors.
I cannot tell you how hectic things get for us on Halloween.  I am always trying to get someone dressed and the costume right.  If  Halloween falls on a weeknight there is not enough time for dinner. Well, this year it falls on a Saturday and with early parties, kids activities and then trick or treating I am sure we will be pressed for time. When things get hectic we may get something afterwards.  There have been times we did not eat anything and have nibbled on the candy as the kids trick or treat.  I could go on and on about having no time to eat.  Let me quit while I am ahead.
I recently picked up a bag of Snack Bites, just to see how my family would like them.  My son has taken them to school for lunch.  I pack six bites in his lunch and he likes them.   If we are running behind schedule on Halloween I know I can pop them in the oven as we run around in chaos.  We can either eat them while getting ready or take them as we walk out of the door.  
Oh yes, I got rid of my microwave over a year ago so we are popping them in the conventional oven. 
If your Halloween is anything like mine you may want to have Hot Pocket Snack Bites on hand.  
Disclosure: Product/compensation was received in exchange for post.
Don't be afraid to be free!!!