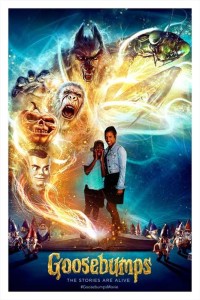 " You mean to tell me you saw Goosebumps without me?"  "Yes, we saw a screening at Sony Studios this past July."  This was part of the conversation my son and I had with my adult daughter this past Friday when she learned Goosebumps was in theaters.
I wish I could share the look of disappointment in her face.  I knew she like R. L Stine  while growing up and has exposed her brother to it as well, but I did not think she would be disappointed to have not attended the screening with us.
I did not want to sound like I was rubbing it in her face, but when she asked how was the movie, I felt bad telling her how good it was.  I wanted to leave some element of surprise when she goes to see it.
My son and I really liked it.  Well, he says he loved it!!!
How many times have you wished you could be apart of your favorite book or it could come to life?  To children this tale may seem realistic or a strong possibility of occurring. That is what makes the movie so good.
Goosebumps is a mixture of comedy, mystery and adventure.  Everything children love.
Although, this is not my son's first horror movie.  This movie is right on target for him.  He has just began to have nightmares or express that  he  has a nightmare. The tale of adventure in what he calls nightmares are similar to this movie.  Hey, maybe he should have been a writer on this film. Getting back to my point, this movie reminds me of how kids think and what is scary to them.  Their scary is definitely different than mine.
I know this will be a classic in my home.  We love R.L Stine.
Lastly, we love all films Jack Black and of course he was awesome.   My family had an opportunity to interview Odeya Rush when she was in the Odd Life of Timothy Green.  I predicted back then that we would see a lot of her in the future.  It was great to see her in this film.  It was also good to see my old friend Keith Bolden, who plays Prinicpal Garrison.

Disclos

ure: Product/compensation was received in exchange for review.
Don't be afraid to be free!!!