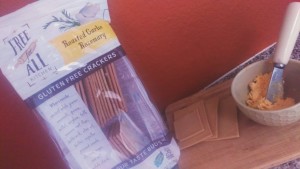 Thank goodness….I will not hear complaints from my daughter about not being able to eat crackers this holiday season.   She has asthma and stomach issues and is limited on foods she can eat.  Breads and crackers are some of the foods she cannot eat.  After trying PARTNERS Crackers I think she has found a solution to her problem.
With decadent desserts, sodium-filled sides and gluten-packed snacks, the holidays tend to send diets free-falling. PARTNERS Crackers offers allergy-friendly and healthier ways to enjoy the season with its Free for All Kitchen gluten-free deli crackers. 
 
Free for All Kitchen products are GMO-Free and rely on a delicious blend of cassava flour and five ancient grains – never corn, rice or soy – for the perfect gluten-free snack cracker.
The following are several ideas for holiday entertaining that are perfect for healthier eaters and guests with sensitive diets:

• Sure to be an ice breaker, spread Olive Oil & Herb deli crackers around a savory bowl of hummus for an irresistible appetizer. Made with a special blend of herbs and in-house dried green olives, these wholesome crackers will please even the most particular taste buds.
• Complement the main dish with an elegant, gluten-free –friendly cheese platter using a variety of Free for All Kitchen's deli crackers. Seasoned with a touch of salt, the Olive Oil & Sea Salt crackers can be paired with a variety of cheese – Gouda is an excellent choice.
• To end the evening, try a sweet and lightly salted combination with Free for All KitchenRoasted Garlic & Rosemary crackers topped with goat cheese and fig jam.
These are all great ideas.  So far we have paired our crackers with pub cheese and it was delicious.   I am so happy my daughter m daughter will not feel left out.

 Disclosure

: Product/compensation was received in exchange for review.
Don't be afraid to be free!!!