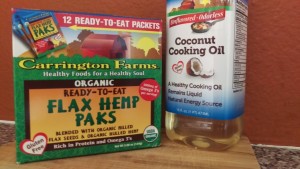 Fall is here and many of us are looking for new comfort recipes.
Now that the weather is finally starting to cool down, it's no longer unbearable cooking hot meals and taking your time in the kitchen. Treat yourself to some quality comfort food with Carrington Farms Chicken Breast with Flax and Herb Stuffing recipe. By incorporating Carrington Farms Organic Flax Hemp Paks and Unflavored Liquid Coconut Cooking Oil, you pack your meal with an extra nutritional punch. Not only will your chicken be juicy and flavorful, but now you can enrich it with omega-3s, omega-6s, fiber, and lignans, serving plenty of nutrients with every bite. Crack open a window and let in that crisp fall air to really enjoy this seasonal recipe!
Chicken Breast with Flax and Herb Stuffing
Yield: 2 servings
Serving Size: 1 chicken breast
Ingredients
2 boneless, skinless chicken breasts (6 oz./375 g each)
2 slices whole wheat bread cut into ½ inch (1 cm) cubes
1 ½ tsp. Carrington Farms Unflavored Liquid Coconut Cooking Oil
1 tsp. minced onion
1 tsp. minced red pepper
2 tsp. chopped, sundried cranberries
1-2 Carrington Farms Organic Flax Hemp Paks
1 large egg
1 tbsp. white wine*
1 tsp. chopped parsley
Carrington Farms Unflavored Liquid Coconut Cooking Oil
salt and pepper to taste
paprika to taste
Directions
1.Heat coconut oil in fry pan over medium-low heat.
2.Add onion and red pepper. Sauté 1 minute.
3.Add cranberries. Cook 2 minutes.
4.Remove mixture from heat, let cool a few minutes.
5.In a bowl, combine bread, egg, wine, Flax Hemp Pak, parsley, onion-red pepper mixture.
6.Season with salt and pepper. Mix well.
7.Between two sheets of wax paper flatten chicken breast to ¼ inch (6 mm) thickness.
8.Spread ½ cup (125 mL) stuffing mixture on breast. Roll up. Repeat with other breast.
9.Preheat oven to 350º F (180º C).
10.Place chicken rolls on a baking sheet that has been sprayed with a nonstick cooking spray.
11.Lightly brush the top of the chicken rolls with coconut oil. Sprinkle with salt, pepper and paprika.
12.Bake 40 to 45 minutes. Rolls should feel firm and bounce back when gently pressed on top with fingertip.
*Apple juice or chicken broth can be substituted for white wine.
This is a creative, healthier recipe.  I have used Carrington Farms products on other recipes and have been pleased.

Disclosure: Product/compensation was received in exchange for post.
Don't be afraid to be free!!!